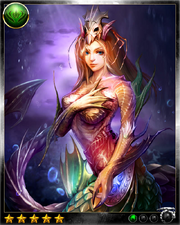 Faction: Charm

Attack: 4880 - 7770 (1-1)
Defense: 4230 - 6420 (1-1)
Cost: 14
Ability: Warcry
Now, now, what do we have here? Another pretender to the throne? Do you realize that people such as yourself are powerless against the mighty sea tempests of history?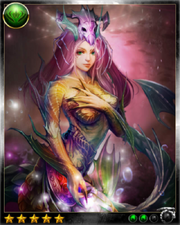 Thetis+

Attack: 5620 - 10884 (2-3)
Defense: 4840 - 8984 (2-3)
Cost: 14
Ability: Warcry
Now, now, what do we have here? A would-be King, leading a would-be army of peers? Why don't you realize your place in life and live at one with the sea like all the others?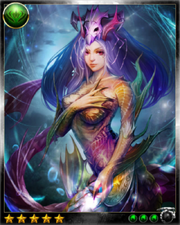 Thetis++

Attack: 6370 - 12775 (3-5)
Defense: 5460 - 10560 (3-5)
Cost: 14
Ability: Warcry
Now, now, what do we have here? A warrior of battle, leading a fortified corps of like-minded fighters? I tremble to think of the new currents a talented group as yours could conjure up.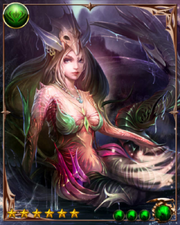 Thetis (Aquatic Nymph)

Attack: 7900 - 16617 (8-15)
Defense: 6730 - 13813 (8-15)
Cost: 14
Ability: Warcry
If you seek the aid of the sea, you may safely consider it yours. For once, it seems we have a ruler who is worth far more than simple, curious pity in my eyes.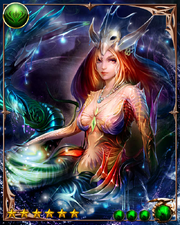 Thetis (Aquatic Nymph) MAXED

Attack (4-1):
Defense (4-1):
Attack (4-7): 16055
Defense (4-7): 13348
Attack (8-15): 16617
Defense (8-15): 13813
Card Name
Evolution Route
Base ATK
Base DEF
Lvl 30 ATK
Lvl 30 DEF
MAX ATK
MAX DEF
Thetis
1-1
4880
4230
-
-
7770
6420
Thetis+
2-3
5620
4840
8997
7529
10884
8984
Thetis++
3-5
6370
5460
10466

10778

8749

9006

12775

NA

10560

NA

Thetis (Aquatic Nymph)
7900
6730

NA

12518

NA

NA

NA

10495

NA

NA

NA

16055

16555

16617

NA

13348

13762

13813
Availability
Edit
Released: 1/7/2013
Thetis was added with the first Guild vs. Guild event, Duels of Bloody Pride, as a reward for finishing in the top 1000 ranked players by Battle Points.
Mythology
Edit
Silver-footed Thetis ("the one who places" in Ancient Greek), is mostly known as a sea nymph or as the goddess of water in Greek mythology. She is one of the fifty Nereids, daughters of the ancient sea god Proteus, and mother of the hero Achilles.
When described as a Nereid in Classical myths, Thetis was the daughter of Nereus and Doris, and a granddaughter of Tethys with whom she sometimes shares characteristics.
Some sources argue that she was one of the earliest of deities worshiped in Archaic Greece, the oral traditions and records of which are lost. Only one written record, a fragment, exists attesting to her worship and an early Alcman hymn exists that identifies Thetis as the creator of the universe. Worship of Thetis as the goddess is documented to have persisted in some regions by historical writers such as Pausanias.
Ad blocker interference detected!
Wikia is a free-to-use site that makes money from advertising. We have a modified experience for viewers using ad blockers

Wikia is not accessible if you've made further modifications. Remove the custom ad blocker rule(s) and the page will load as expected.