The Treasure Trove is a limited quest appearing on some Mondays. It was introduced in place of the Super Rare Card Chance event for one weekend and the following Monday. You attempt to earn a rare and/or a super rare card by collecting pieces of an Event Treasure Set.
The set pieces are found randomly in the Event Quests. You will also find Dragon Treasures and other Event Treasures. As with the Dragon Treasures they can all be invested in your guild once you complete a set, and can also be stolen by other players in battle.
Event History: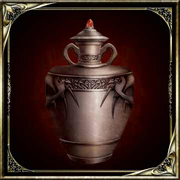 1st Event: 2/9/2013 - 2/11/2013 23:59 EST
2nd Event: 2/18/2013 (EST)
3rd Event: 3/18/2013 (EST)
4th Event: 6/10/2013 (EDT) - Challenge Mission
5th Event: 6/17/2013 (EDT)
6th Event: 6/30/2013 (EDT) - Challenge Mission

Prizes:
Ad blocker interference detected!
Wikia is a free-to-use site that makes money from advertising. We have a modified experience for viewers using ad blockers

Wikia is not accessible if you've made further modifications. Remove the custom ad blocker rule(s) and the page will load as expected.