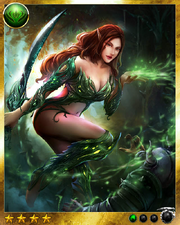 Faction: Magic

Attack: 3170 - 5080 (1-1)
Defense: 4200 - 7000 (1-1)
Cost: 12
Ability: Divine Protection
The forest is not an eternal flame. It cannot give, and give with abandon. That is why our bounties are open for the taking...so long as those who take are willing to give back, to the best of their ability.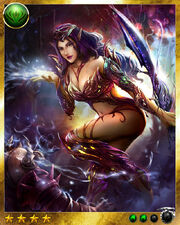 Thaleia+

Attack: 3700 - 7116 (2-3)
Defense: 4960 - 9760 (2-3)
Cost: 12
Ability: Divine Protection
The forest is not an eternal flame. It can not give, and give,and give with abandon. We appreciate the needs of the country farmer,the village smith. That does not go for the logger, the greedy woodcutter who takes and takes.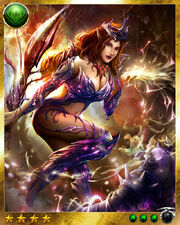 Thaleia++

Attack: 4220 - 8553 (4-7++) 
Defense: 5620 - 11712 (4-7++)
Cost: 12
Ability: Divine Protection
The forest is not an eternal flame. It cannot give,and give, and give with abandon. To the creatures who rely on the forest for shelter and livelihood, our bounties will always be available. To others, their worthiness must be proven  first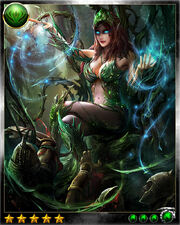 Thaleia (Giver and Taker)

Attack: 5260
Defense: 7210
Cost: 12
Ability: Divine Protection
The forest is not as unforgiving as many feel it is. If someone blunders inside, unable to fend for themselves, we will always try to help them find the way. It is when someone attempts to take advantage of us that we strike back.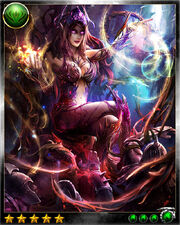 Thaleia (Giver and Taker) MAXED

Attack (4-1): 9607
Defense (4-1): 13415
Attack (4-7): 10563
Defense (4-7): 14744
Attack (8-15): 10931
Defense (8-15): 15242
Card Name
Evolution Route
Base ATK
Base DEF
Lvl 25 ATK
Lvl 25 DEF
MAX ATK
MAX DEF
Thaleia
1-1
3170
4200
-
-
5080
7000
Thaleia+
2-3
3700
4960
5891
8025
7116
9760
Thaleia++
3-5
4220
5620
6865

7068

9323

9599

8350

8553

11436

11712

Thaleia (Giver and Taker)
5260
7210

-

5647◊‡

8127◊

8213

8417◊

8437◊

8540◊

8560◊

8581◊

-

7725◊‡

11248◊

11368

11644◊

11671◊

11811◊

11839◊

11866◊

9220◊

9607

10477

10563

10767◊

10787◊

10890

10910◊

10931

12900◊

13415

14624

14744

15020◊

15047◊

15187

15215◊

15242
(P): PURE 4-1 STATS (no carryover stats)
‡: Denotes NON-enhanced level 1 carryover stats
◊: Calculated, remove this symbol if stats are confirmed
(M##): Mirror Dragon used; ##: stage(s) where it was used
Availability
Edit
Released: 2/7/2013
Thaleia was added at the end of Unseen Hand of Malice, the second Colosseum Event, as a reward for the top 10000 ranked players.
Mythology
Edit
In Greek mythology, Thalia (Θάλεια / Tháleia or Θάλια / Thália, "the Joyous, the Flourishing", from θάλλειν / thállein, "to flourish, to be green") is a nymph, the child of Hephaestus. She is also given as an anthropomorphic secondary deity of plant life and shoots, possibly as the culmination of the transmission of knowledge on volcanic ash's use as a fertiliser, characteristic of ancient viticulture in volcanic soils such as those of the islands of Thera and Santorini.
The tradition surrounding her is confused, but she is probably confused with the muse, grace or Nereid of the same name. Macrobius's Saturnales (song V) states how Zeus seized this Thalia whilst he was in the form of an eagle, as he did with Aegina, Leto and Ganymede. He then made love to her near the river Symethe on Sicily and then buried her in the ground to avoid Hera's jealousy. Her twin children, the Palici, were thus born from the earth, though other authors make the Palici the sons of Hephaestus.
Ad blocker interference detected!
Wikia is a free-to-use site that makes money from advertising. We have a modified experience for viewers using ad blockers

Wikia is not accessible if you've made further modifications. Remove the custom ad blocker rule(s) and the page will load as expected.