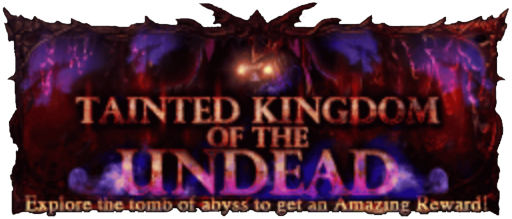 The Tainted Kingdom of the Undead was a Raid Event. You explored the ancient underground tomb of the undead by doing quests, using Stamina. A boss would appear to fight you at random intervals. Fighting the boss, using Battle Points, would award loot, cards, and increase your Damage Points. Completing floors earned you Event Treasure. The further into the tomb you ventured, the harder the bosses would be to defeat.
Event details:
Period: 12/13/2012 - 12/25/2012 (PST)
First half: 12/13 - 12/19
Second half: 12/19 - 12/25

Bosses:
Blitz Raid: Nidhogg
Carnage Raid (Raid Overlord): Arawn (Available for the second half of the event only)
Shadow Creeps: Dregs of Valor

Features:
Dragon Burst: 150% ATK Damage done against raid bosses for 10 minutes. Activates at unknown intervals.
Chain of the Dragon Tribe: Decreases the defense of Raid Bosses incrementally, depending on how often you defeat them within the chain timer. Increases by 7.5% for every win. Resets when the chain timer runs out.

New cards introduced:

Total Ranking rewards:
| | Top Rank | | | | | | | |
| --- | --- | --- | --- | --- | --- | --- | --- | --- |
| A | 50 | 4 | 4 | 1 | 10 | 10 | 300000 | 20000 |
| B | 100 | 3 | 4 | 1 | 5 | 5 | 200000 | 10000 |
| C | 200 | 2 | 4 | 1 | 3 | 3 | 100000 | 5000 |
| D | 500 | 2 | 3 | 1 | 1 | 1 | 50000 | 3000 |
| E | 1000 | 1 | 2 | 1 | 1 | 1 | 30000 | 2000 |
| F | 2000 | | 2 | | 1 | 1 | 20000 | 1500 |
| G | 5000 | | 1 | | | | 15000 | 1000 |
| H | 10000 | | | | | | 10000 | 1000 |

First half ranking rewards:
| | Top Rank | | | | | | |
| --- | --- | --- | --- | --- | --- | --- | --- |
| A | 50 | 2 | 1 | 5 | 5 | 100000 | 10000 |
| B | 100 | 1 | 1 | 3 | 3 | 50000 | 5000 |
| C | 200 | | 1 | 1 | 1 | 30000 | 3000 |
| D | 500 | | | 1 | 1 | 20000 | 2000 |
| E | 1000 | | | | | 10000 | 1000 |
| F | 2000 | | | | | 5000 | 500 |

Second half ranking rewards:
| | Top Rank | | | | | | |
| --- | --- | --- | --- | --- | --- | --- | --- |
| A | 50 | 2 | 1 | 5 | 5 | 100000 | 10000 |
| B | 100 | 1 | 1 | 3 | 3 | 50000 | 5000 |
| C | 500 | | 1 | 1 | 1 | 30000 | 3000 |
| D | 1000 | | | 1 | 1 | 20000 | 2000 |
| E | 5000 | | | | | 10000 | 1000 |
| F | 10000 | | | | | 5000 | 500 |

Dregs of Valor ranking rewards (daily):
| | Top Rank | | | |
| --- | --- | --- | --- | --- |
| A | 5 | 3 | 3 | 30000 |
| B | 20 | 2 | 2 | 20000 |
| C | 100 | 1 | 2 | 10000 |
| D | 200 | 1 | 1 | 5000 |
| E | 99999 | | 1 | 3000 |