Event details
A Raid Event is a one-time-only limited event, where you explore a dungeon added specifically for the event, and available only during the event, encountering Raid Bosses during the quest.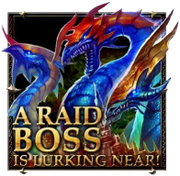 Features
Repeatable Raid Quest
Event Treasure
Raid Bosses
Ranking Rewards
Raid Medals
MVP rewards

The Raid Quest
Explore the dungeon by repeating the Raid Quest an unlimited number of times, spending stamina to do so. Every time you complete the quest, you are awarded with an item, possibly a piece of the Event Treasure for the event in question, and then progress to the next floor. While exploring, Raid Bosses may appear.
Event Treasure
As you clear the floors of the dungeon, you will come across an item unique to the event, a piece of the Event Treasure. Gather all of the pieces to complete the Treasure Set. Doing so will award you with a limited card, available only during that event. It is typically only possible to gather 4 Treasure Sets, and thus only possible to gather 4 copies of the card, during Raid Events.
The Raid Boss
Fight the event bosses by spending a set percentage of your battle points (30%, 50% or 100%). If the Raid Boss is defeated, you will be awarded with loot. The next time that particular Raid Boss spawns, it will be a higher level, with better stats, providing a bigger challenge. If you do not defeat the Raid Boss, or you do not wish to fight the Raid Boss, you may Call For Help, requesting your allies for assistance. Defeating a Raid Boss at levels 10, 30 or 60 will award you with a copy of the card featuring that particular Raid Boss.
Ranking Rewards
Fighting the Raid Boss will increase your Ranking Points. At the end of the event, and at the end of each half of the event, Ranking Rewards will be awarded based on your Ranking Points. See previous events below for details on these prizes.
Raid Medals
When you defeat a Raid Boss, you will earn a Raid Medal. The more damage you did to that Raid Boss, the more bonus Raid Medals you will receive. Raid Medals can be traded for cards from the Raid Medal Card Pack after the Raid Event. Raid Bosses award different Raid Medals based on the specific event, refer to the event page for more details.
MVP rewards
When a Raid Boss is defeated, the person who did the most damage to the Raid Boss is awarded a significant amount of bonus Ranking Points, as well as loot that may include the Raid Boss card. Other participants might also receive smaller rewards, based on how much damage they did.
Previous Events



Sep 20th (??:00 EDT) - Sep 26th (23:59 EDT)




July 26th (1:00 EDT) - Aug 1st (23:59 EDT)




May 21st (1:00 EDT) - May 30th (23:59 EDT)




Mar 15th - Mar 24th (23:59 EDT)




Feb 12th - Feb 15th (21:00 PST)
| Dec 14th - Dec 25th (22:00 EST) | | Nov 19th - Nov 27th (23:59 PST) |
| --- | --- | --- |
Pages in category "Raid Event"
The following 9 pages are in this category, out of 9 total.
Ad blocker interference detected!
Wikia is a free-to-use site that makes money from advertising. We have a modified experience for viewers using ad blockers

Wikia is not accessible if you've made further modifications. Remove the custom ad blocker rule(s) and the page will load as expected.