The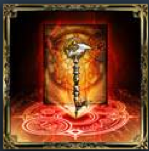 Premium Key
is the most common draw key that gives you a chance to draw any card that is available in the Premium Card Pack.  
Premium Keys
have been in the game since release.
Obtaining a Premium Key
Edit
Premium Keys may be obtained in a variety of ways: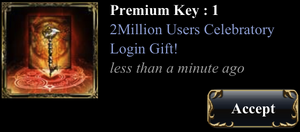 Using a Premium Key
Edit
You can use a Premium Key by clicking the Card Pack Indicator on the top right of the screen, then click the Ticket Tab From there you can click Accept for the Key you which to use.
Premium Keys can draw any card that is in the Premium Card Packs.  Rares cards have the highest probability of being drawn, Super Rare is less and Mega Rare far less. It is not yet known whether the new Ultra Rare Cards may be drawn from the Premium Packs.
Note: It is possible to draw untradable cards from the Premium Pack (i.e. Allocer)
From April 17, 2014 onwards the Premium Key card pack results was increased to 80 Common & Uncommon, 60 Rare cards and 80 Super rare cards, 60 Mega Rare cards and 40 Ultra Rare cards, below is a list of known cards that may be drawn. Please add to the list as you draw cards.
Possible Cards to Get Drawn (Current , April 17, 2014 onward):
Edit
Card list: 60 Rare, 80 Super Rare, 60 Mega Rare, 40 Ultra Rare
Bug: At the moment (22 April) you can draft Rahu (LR)
| Rare (60/60) | Super Rare (75/80) | Mega Rare (25/60) | Ultra Rare (31/40) |
| --- | --- | --- | --- |
| | | | |
Possible Cards to Get Drawn (Before April 17, 2014):
Edit
Rares
Super Rares (Low chance)
Most likely any card drawable from the SR Keys)
Mega Rares (Tiny Chance)
Most likely any card drawable from the Mega Key)

Added 1/16/14

Added 1/16/14
◊ These cards are believed to NOT be drawable from Premium Key, rather drawable from Premium PURCHASE packsor not drawable atall, some are event reward cards or Puzzle event cards that have never reappeared, (or in the case of Apprentice Mage Tina only available via referral code the way it always has been).
Other Card Draw Keys
Edit
Other Keys
Edit
Ad blocker interference detected!
Wikia is a free-to-use site that makes money from advertising. We have a modified experience for viewers using ad blockers

Wikia is not accessible if you've made further modifications. Remove the custom ad blocker rule(s) and the page will load as expected.