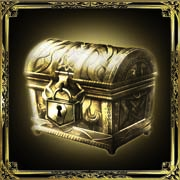 The
Platinum Chest
 was introduced during 
The Ancient Temple of Memories
, the fourth 
Chest Hunt Event
event.  Like the
Metal Chest
and
Gilded Chests
, the
Platinum Chest
 can only be opened with
Silver Keys
or
Gold Keys
.  The 
Platinum Chest
will disappear 10 minutes after discovery.
Obtaining Platinum Chests
Edit
Platinum Chests can only be obtained from the Lucky Streak Quest; which is only available if a Lucky Streak is in effect. The Lucky Streak Quest must be completed to obtain any loot, including chests. The Quest only requires 100 Stamina to start, however, requires a total of 300 Stamina, depending on the event, to complete. Platinum Chest can be opened by using 1 Silver Key or 1 Gold Key (Guaranteed) for Unlock Points and rewards.
Chest Reward Contents
Edit
Other Chests
Edit
Ad blocker interference detected!
Wikia is a free-to-use site that makes money from advertising. We have a modified experience for viewers using ad blockers

Wikia is not accessible if you've made further modifications. Remove the custom ad blocker rule(s) and the page will load as expected.