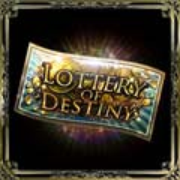 Lottery Tickets are used in the weekly Lottery of Destiny event.  The Lottery of Destiny Draw TIme is 00:00 (Midnight) EST/EDT, Lottery Tickets may be entered into the draw from Monday 00:01 to Sunday 23:59 for the following week's draw.
The Lottery Ticket comes in 2 forms, it is either a voucher or a numbered ticket.  Numbered tickets are entered into the current drawing period.  Numbered tickets do not show up in your inventory, they only apear through the "Your List of Numbers" link on the Lottery of Destiny event page.  Numbered tickets disappear once the drawing is completed.
Vouchers show up in your inventory and are not entered into the draw until you use them.  You may use up to 10 tickets at a time from your inventory.  Vouchers carry over from week to week until they are used.
Obtaining Numbered Lottery Tickets
Edit
Numbered Lottery Tickets can be obtained in one of 2 methods: Purchasing them with Dorri or using vouchers
You may purchase up to 100 tickets per drawing period at 1000 Dorri per ticket.  Tickets may not be bought on Monday, the Draw day.  
You may use any amount of vouchers to add additional entries above the 100 purchased or instead of purchasing tickets.
Obtaining Lottery Ticket Vouchers
Edit
Lottery Ticket Vouchers may be obtained in a variety of ways:
Random Drops while doing quests
Random drops when battling other players (treasure does not need to be targetted)
Event Ranking Rewards
Rival Cycle Rank Rewards
Lottery of Destiny draw prizes
MVP when Defeating Raid Bosses
Ad blocker interference detected!
Wikia is a free-to-use site that makes money from advertising. We have a modified experience for viewers using ad blockers

Wikia is not accessible if you've made further modifications. Remove the custom ad blocker rule(s) and the page will load as expected.