The Kiara Matching Game appears as a basic game of matching pairs.  You find matching pairs of cards to form sets, if you make a match you receive that reward item and you can search for another pair, if you fail to find a pair you will have to wait
12 hours
to try again.   
There are 7 levels of sheets, each sheet is the same size (2x4).  The prizes for each level of sheet improves. There is also a sheet clearing bonus for finding all the pairs on a given sheet.

Event Period:
2. 7/18/13 - 7/24/13 (play again after at least 12 hours cool-down)
1. 5/29/13 - 6/11/13 (play again once per game day)

The items you flip are predetermined, and will be flipped no matter which square you chose. The items flipped will vary from player to player, but you cannot change your outcome by chosing a different square. The only strategy involved is to log in and "play the game" as often as possible.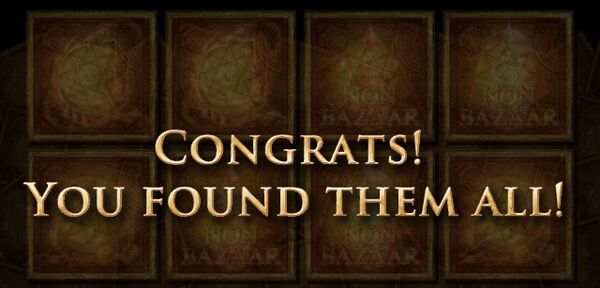 Ad blocker interference detected!
Wikia is a free-to-use site that makes money from advertising. We have a modified experience for viewers using ad blockers

Wikia is not accessible if you've made further modifications. Remove the custom ad blocker rule(s) and the page will load as expected.