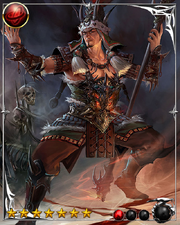 Attack: 11610 - 16780 (1-1)
Defense: 10390 - 15290 (1-1)
Cost: 25
Ability: Warcry
Cruelty and a lust for plunder comes not to the faint hearted. To be a King, one must act a King. Mercy is for the noble and the dead. With fire in your heart and an iron hand you may rule an empire. I see none of those qualities in you.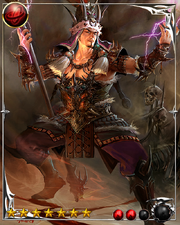 Kahn+

Attack:
Defense:
Cost: 25
Ability: Warcry
???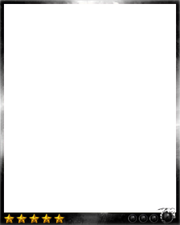 Kahn++

Attack:
Defense:
Cost: 25
Ability: Warcry
???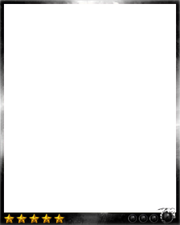 Kahn (Mongrel Jester)

Attack:
Defense:
Cost: 25
Ability: Warcry
???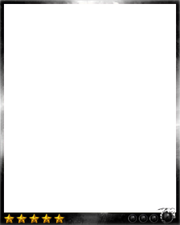 Kahn (Mongrel Jester) MAXED

Attack (4-1): 26000 (advertised)
Defense (4-1): 24800 (advertised)
Attack (4-7):
Defense (4-7):
Attack (8-15):
Defense (8-15):

Released: 4/1/2013
Kahn was added as a reward for posting in a specific thread on Facebook during the Diamond Exchange Campaign. Upon logging into the game after posting on Facebook, Kahn would be in the players inbox. an April Fool's joke. :)
Kahn is untradable.

Genghis Khan was the founder and Great Khan (emperor) of the Mongol Empire, which became the largest contiguous empire in history after his demise.
He came to power by uniting many of the nomadic tribes of northeast Asia. After founding the Mongol Empire and being proclaimed "Genghis Khan", he started the Mongol invasions that resulted in the conquest of most of Eurasia.
A jester, or fool, was a historical person employed to entertain a ruler in medieval times and can also be a modern entertainer who performs at mostly medieval themed events. On the first day in April, it is custom in many countries around the world to play good-natured tricks on eachother, and then proclaim those who fall for the trick as an "April Fool".
Ad blocker interference detected!
Wikia is a free-to-use site that makes money from advertising. We have a modified experience for viewers using ad blockers

Wikia is not accessible if you've made further modifications. Remove the custom ad blocker rule(s) and the page will load as expected.