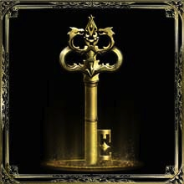 The Gold Key was introduced with the first Chest Hunt Event, The Lunar Chest.  As opposed to the Silver Key, the Gold Key, when used exclusively on your own chest, does not ONLY guarantee that it will open the chest, it provides a chance at better rewards and gives bonus Unlock Points.  If used to aid someone else in opening their chest, so long as 4 allies respond in time, then the chest is guarenteed to open, and the rewards will tend to be better.
Obtaining Gold Keys
Edit
Gold Keys may be obtained in a variety of ways:
The in-game shop during the associated event period
As bonus gifts when purchasing select Premium Card Packs during the associated event period
Using your Gold Key(s)
Edit
You can use a Gold Key by going to the associated event page, tapping the Locked Chests button and then clicking use (3) Gold Keys. You can also request help from allies to open the chest in which case you would use only 1 Gold Key. Allies that respond will need to use 3 Silver Keys each or 1 Gold Key each. If 4 allies do not respond within the locked chest expiry time. All keys spent by you and your allies are lost along with the locked chest.
Other Keys
Edit
Other Card Draw Keys
Edit
Ad blocker interference detected!
Wikia is a free-to-use site that makes money from advertising. We have a modified experience for viewers using ad blockers

Wikia is not accessible if you've made further modifications. Remove the custom ad blocker rule(s) and the page will load as expected.