Faction: Melee


Attack: 3300 - 6600
Defense: 2700 - 5400
Cost: 12
Ability: Divine Aura
Do you presume to pass my way. I hope you like the kiss of my sting! Countless victims of the debased female assassin, endured inconceivable torment. Enamored by her miasmatic nature, the spirit of the scorpion took possession of her.
Girtablulu+

Attack: 4730 - 9190 (2-3)
Defense: 3870 - 7520 (2-3)
Cost: 12
Ability: Divine Aura
Do you presume to pass my way. I hope you like the kiss of my sting! The poisons that had been her weapon of choice, now flowed through her transformed body. Not human or beast, but dreadfully ravishing and even more deadly.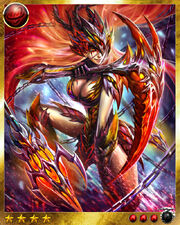 Girtablulu++

Attack: 5420 - 11028 (4-7 ++)
Defense: 4430 - 9024 (4-7 ++)
Cost: 12
Ability: Divine Aura
Do you presume to pass my way. I hope you like the kiss of my sting! Flitting between shadows, she stalks her prey. Unseen and like lightening is her strike, the poisons soon take hold, and the unfortunate writhe desperately into darkness.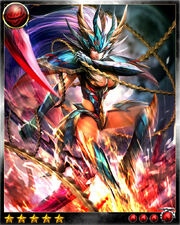 Girtabulu (Poisonous Sting)

Attack: 6710
Defense: 5490
Cost: 12
Ability: Divine Aura
Swinging her chain and sickle in a heinous spiral, she eackles in joyous fervor. This is an alliance, I shall take great pleasure in! Dancing through the nights, she rides the wind in a venomous vapor, in utter anticipation. Who shall it be tonight.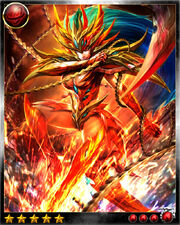 Girtabulu (Poisonous Sting) MAXED

Attack (4-1): 12557
Defense (4-1): 10274
Attack (4-7): 13837
Defense (4-7): 11321
Attack (8-15): 14306
Defense (8-15): 11705
Card Name
Evolution Route
Base ATK
Base DEF
Lvl 25 ATK
Lvl 25 DEF
MAX ATK
MAX DEF
Girtablulu
1-1
3300
2700
-
-
6600
5400
Girtablulu+
4730
3870

-

7587

-

6208

8200

9190

6710

7520

Girtablulu++

4-3++

5420
4430

8845◊

8906

9104

7235◊

7285

7447

10769

10830

11028

8812

8862

9024

Girtabulu (Poisonous Sting)
6710
5490

-

7167◊

10639◊

10824◊

10898◊

10924◊

11056◊

11068

11082◊

11108

-

5895◊

8704◊

8855◊

8916◊

8937◊

9045◊

9055

9067◊

9088

12100

12557

13837

14022

14096◊

14122◊

14254

14266

14280◊

14306

9900

10274

11321

11472

11533◊

11554◊

11662

11672

11684◊

11705
(P): PURE 4-1 STATS (no carryover stats)
◊: Calculated
(M##): Mirror Dragon used; ##: stage(s) where it was used
Notice: When Girtablulu evolves into Stage 4, it's name changes to Girtabulu (Poisonous Sting) (It loses the "l" after the "b". Just thought I'd make that right).
Availability
Edit
Released: 2/9/2013
Girtablulu was added with The Treasure Trove Limited Quest as a reward for completing the Venomous Anklet Event Treasure Set.
Girtablulu became tradable on 12/13/2013
Mythology
Edit
Girtablilu (or aqrabuamelu), are scorpion men featured in several Akkadian language myths and the Babylonian version of the Epic of Gilgamesh. The Scorpion Men are described to have the head, torso, and arms of a man and the body of a scorpion.
They were first created by the Tiamat in order to wage war against the younger gods for the betrayal of her mate Apsu. In the Epic of Gilgamesh, they stand guard outside the gates of the sun god Shamash at the mountains of Mashu, beyond which lies Kurnugi, the land of darkness. The scorpion men open the doors for Shamash as he travels out each day, and close the doors after him when he returns to the underworld at night. They also warn travellers of the danger that lies beyond their post. Their heads touch the sky, their "terror is awesome" and their "glance is death".
Ad blocker interference detected!
Wikia is a free-to-use site that makes money from advertising. We have a modified experience for viewers using ad blockers

Wikia is not accessible if you've made further modifications. Remove the custom ad blocker rule(s) and the page will load as expected.