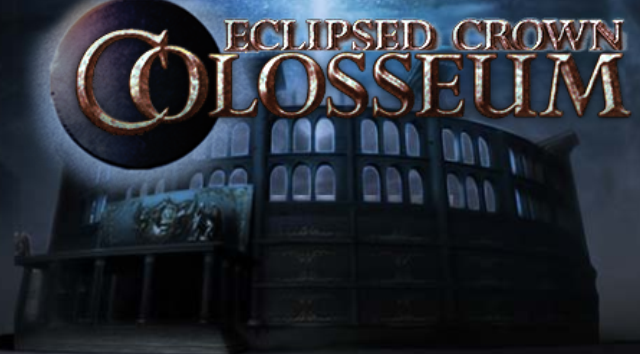 The Eclipsed Crown Colosseum Events, or the Colosseum Events for short, are tournament style events, where you attempt to defeat several opponents in succession, for as long a Win Streak as possible, for as many times as possible while the event lasts, spending Tourney Potions to do so.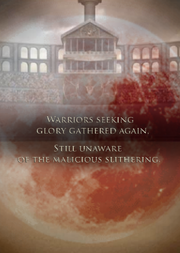 Features
Tournament-style battles
Tourney Points
Tourney Potions
Event Treasure
Win Streak
Ranking Rewards
Mini-boss
Adrenaline Rush
Total Deck Power

The tournament
10 opponents are chosen from a pool of players around your level or deck power. You battle the weakest of these players first, then progress through increasingly stronger players until you are defeated or until you have defeated all 10 of them. The longer the Win Streak, the better rewards are earned.

Tourney Points
To enter the Colosseum battle, you must spend Tourney Points. Spend 1 Tourney Point to enter the Colosseum with your normal deck power. Spend 3 to double your deck power. When spent, Tourney Points will recover at a rate of 1 point per hour. You may only have a maximum of 3 Tourney Points. You may refill your Tourney Points with a Tourney Potion.

Tourney Potion
This is the key to ranking well in the Colosseum. When used, it will refill your Tourney Points, allowing you to enter the Colosseum for another battle. Tourney Potions are bought in the Shop and are earned by fighting in the Colosseum.
Event Treasure
Occasionally the rewards for a battle will include a piece of an Event Treasure Set. Gather all of the pieces to complete the Treasure Set. Doing so will award you with a limited Rare card, available only during that event.
Win Streak
Every time you enter the Tournament, you will be pitted against up to 10 opponents. The more opponents you defeat the longer your Win Streak, the more Ranking Points you will earn, and the better/more prizes you may be rewarded. The Ranking Points will decide your final prizes at the end of the event, as well as any Daily Ranking rewards for the event.
Ranking Rewards
At the end of the event, and at the end of each day during the event, Ranking Rewards will be awarded based on your Ranking Points. See previous events below for details on these prizes.
Mini-Boss
Occasionally a 10-streak win will attract the attention of a Mini-Boss. Defeat this Boss for extra loot and Ranking Points. The Mini-Boss is of a random power level just above your last opponent. A win will increase your Win Streak by one, thus taking it above 10 and awarding an even greater prize.
Adrenaline Rush
Winning in the Colosseum fill up your Adrenaline Gauge. If you use the spent 3 Tourney Points to enter the Colosseum, the Adrenaline Gauge will increase by 5 times as much as a normal entry (1 Tourney Point). When full, the Adrenaline Gauge activates Adrenaline Rush, which doubles your deck power. This effect lasts for 10 minutes.
Total Deck Power
To win a Colosseum battle your TOTAL Deck Power (attack + defense) must be greater than your opponents total Deck Power. Thus, the best cards to use are cards with a high total stat point (attack + defense) - not simply cards with a high attack power. Keep in mind that bonus effects still apply, particularly effects that affect both stats, and of course the entry you chose (3 Tourney Points vs 1 Tourney Point) and the Adrenaline Rush.
Strategy
Use the 3 TP attack. It has far better results and rewards:

Doubles your deck power (attack + defense).

Thereby increasing your win streaks.

Awards 5 times the amount of ranking points that you get from the Win Streaks.
Increases the Adrenalin Gauge by 5 times as much as a 1 TP attack.

Maximize your deck power. Chose the cards with the highest sum of attack + defense.
Save your Tourney Potions for when your Adrenalin Rush gets activated. Then use as many of them as possible in the 10 minutes it lasts.
You may end up in battle with yourself in the Colosseum, as your own name is not removed from the list of players your Colosseum opponents are drawn from.
Previous EventsEdit



Nov 19th (1:30 EST) - Nov 27th (23:59 EST)

Oct 25th (1:00 EDT) - Oct 31st (23:59 EDT)

Sep 9th (7:00 EDT) - Sep 16th (23:59 EDT)

Aug 7th (3:40 EDT) - Aug 12th (23:59 EDT)

May 31st (9:00 EDT) - June 5th (23:59 EDT)

Apr 12th (2:40 EDT) - Apr 18th (22:00 EDT)


Feb 1st - Feb 7th (22:00 EST)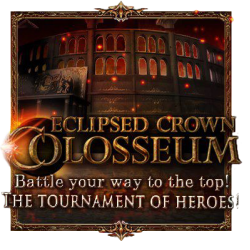 Dec 5th - Dec 11th (23:59 PST)
Pages in category "Colosseum Event"
The following 9 pages are in this category, out of 9 total.
Ad blocker interference detected!
Wikia is a free-to-use site that makes money from advertising. We have a modified experience for viewers using ad blockers

Wikia is not accessible if you've made further modifications. Remove the custom ad blocker rule(s) and the page will load as expected.