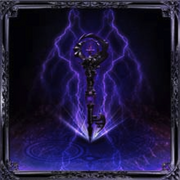 The Blitz Key was introduced with the seventh Raid Event, The The Heart's Dark Reflection.  It replaced the Silver Raid Medals that were introduced with the third raid event.  As opposed to the Carnage Raid Key, when blitz keys are exchanged, you may find Heaven's Blessing Dragons in the Blitz Raid Treasure Chests.  The contents of the Blitz Raid Treasure Chests may change over time.
Obtaining Blitz Raid Keys
Edit
((PAGENAME}}s may be obtained in a variety of ways:
Defeating Blitz and Carnage Raid bosses during Raid Events
Defeating Blitz and Carnage Raid bosses in the revised weekly Ordeal of Reminiscence Raid system
Defeating Blitz Bosses that appear randomly while questing in the sotryline quests and various weekly quests (obselete)
Using your Blitz Key(s)
Edit
You can use a Blitz Key by going to the Card Pack page, tapping the Tickets tab and then tapping the "Accept" button for the Blitz Raid Treasure Chest it will then exchange up to 10 at a time, any extras accepted over your card album limit will appear in your gift box.
Other Keys
Edit
Other Card Draw Keys
Edit
Ad blocker interference detected!
Wikia is a free-to-use site that makes money from advertising. We have a modified experience for viewers using ad blockers

Wikia is not accessible if you've made further modifications. Remove the custom ad blocker rule(s) and the page will load as expected.