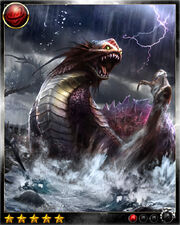 Faction: Melee


Attack: 5130 - 8220 (1-1)
Defense: 4730 - 7580 (1-1)
Cost: 15
Ability: Hateful Genesis
Feeding to exist. Existing to cause death. Monstrosity most repugnant. Insatiable in its lust for death, for death is its sustenance, it's everything.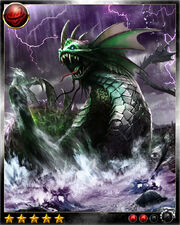 Aspidochelon+

Attack: 5910 - 11596 (2-3)
Defense: 5460 - 10582 (2-3)
Cost: 15
Ability: Hateful Genesis
Feeding to exist. Existing to cause death. Unknown of origin, gruesome and rank, slaughtering all it encounters. Shorelines once flush with life, left in ruination and pools of red.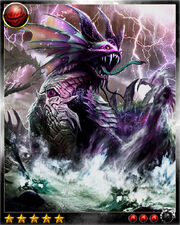 Aspidochelon++

Attack: 6710 - 13850 (4-7++)
Defense: 6200 - 12781 (4-7++)
Cost: 15
Ability: Hateful Genesis
Feeding to exist. Existing to cause death. The smell of life draws it from water. Carnage beginning with one, and pausing when the last and even smallest has been extinguished.
Aspidochelon (Lurid Leech)

Attack: 8320
Defense: 7680
Cost: 15
Ability: Hateful Genesis
None are left to forewarn of its coming. None, who know of the inconceivable horror of the mouth and the unnatural tentacles that protrude to grasp and inhale. All that is left for those discover the remains, is the stench and woe.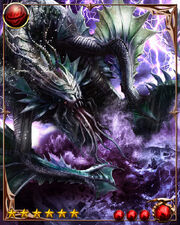 Aspidochelon (Lurid Leech) MAXED

Attack (4-1): 15429 ◊
Defense (4-1): 14252 ◊
Attack (4-7): 17073
Defense (4-7): 15756
Attack (8-15): 17669
Defense (8-15): 16307
Stats
Card Name
Evolution Route
Base ATK
Base DEF
Lvl 30 ATK
Lvl 30 DEF
MAX ATK
MAX DEF
Aspidochelon
1-1
5130
4730
-
-
8220
7580
Aspidochelon+
2-3
5910
5460
9500
8770
11596
10582
Aspidochelon++
3-5
6710
6200
11057

11394◊

10213

10513◊

13513

13850◊

12481

12781◊

Aspidochelon (Lurid Leech)
8320
7680

-

8849◊‡

13258

13596◊

13630◊

13788◊

13821◊

13855◊

-

8182◊‡

12237

12537◊

12567◊

12727◊

12757◊

12787◊

14900◊

15429◊

17073

17411◊

17445◊

17603

17636◊

17669

13750◊

14252◊

15756

16056◊

16086◊

16246

16276◊

16307
(P): PURE 4-1 STATS (no carryover stats)
‡: Denotes NON-enhanced level 1 carryover stats
◊: Calculated, remove this symbol if stats are confirmed
(M##): Mirror Dragon used; ##: stage(s) where it was used
Availability
Released: 3/29/2013
Aspidochelon was added to the Diamond Exchange during the first Diamond Card Pack, at a cost of 25000 Diamonds.
Mythology
The Aspidochelone is a fabled sea creature described as a large whale or vast sea turtle, and a giant sea monster with huge spines on the ridge of its back. It is huge, often mistaken for an island and appears to be rocky, with crevices and valleys with trees and greenery and having sand dunes all over it.
It rises to the surface from the depths of the sea, and entices unwitting sailors with its island appearance to make landfall on its huge shell and then the whale is able to pull them under the ocean, ship and all the people, drowning them. It also emits a sweet smell that lures fish into its trap where it then devours them.
The name aspidochelone appears to be a compound word combining Greek aspis (which means either "asp" or "shield"), and chelone, the turtle. In the moralistic allegory of the Physiologus and bestiary tradition, the aspidochelone represents Satan, who deceives those whom he seeks to devour.
Ad blocker interference detected!
Wikia is a free-to-use site that makes money from advertising. We have a modified experience for viewers using ad blockers

Wikia is not accessible if you've made further modifications. Remove the custom ad blocker rule(s) and the page will load as expected.